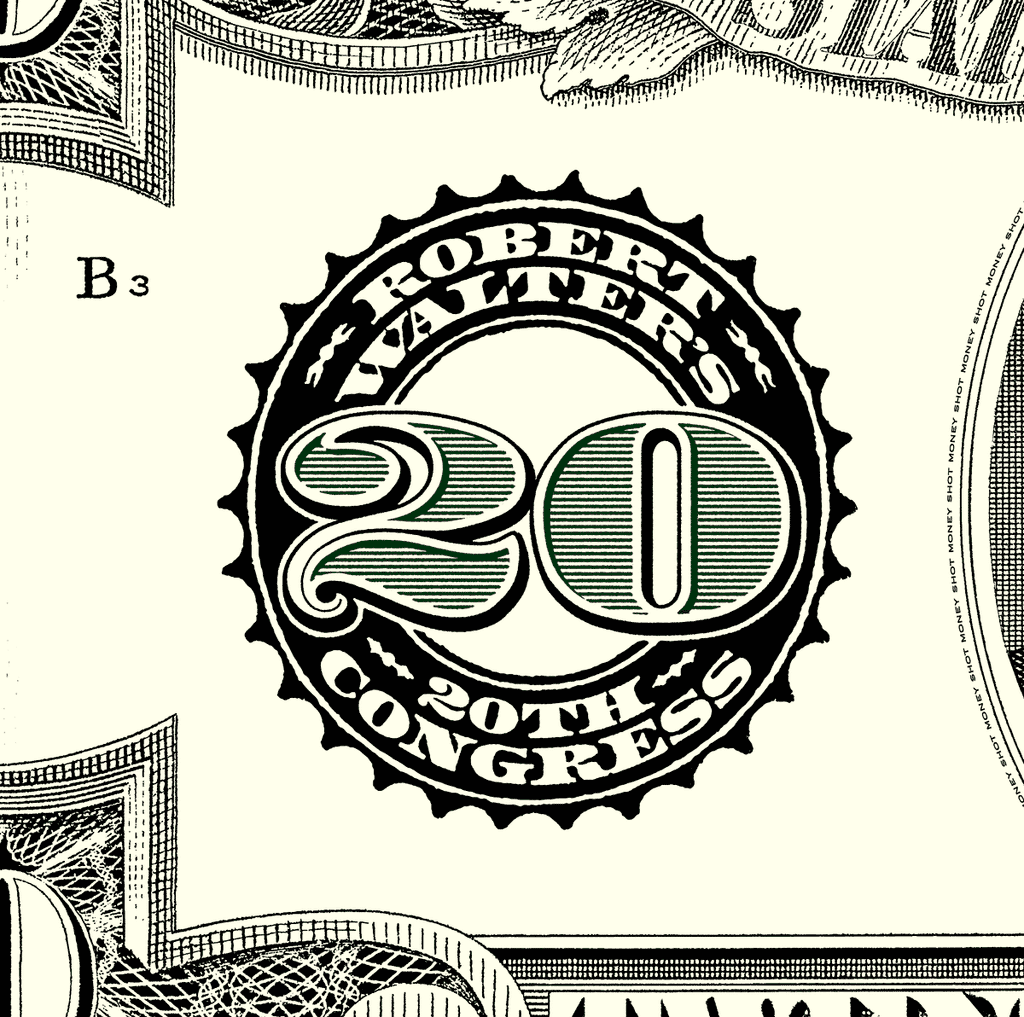 ROBERT WALTER'S 20TH CONGRESS - Money Shot CD
TRACK LISTING: 
1. White Russ
2. (Everybody Wanna Get Rich)
3. Rack & Pinion
4. Instant Lawn
5. The Yodel
6. Shemp Time
7. Money Shot
8. I'm Over It
9. Blues for Y2k
Boombox-optimized "back to the chicken shack" grooves!
Robert Walter has built a reputation as one of America's heaviest jazz-funk keyboardists. As a founding member of the Greyboy Allstars, he toured with the band throughout North America and Europe for five years. Along the way, he contributed to the soundtrack of the major motion picture Zero Effect and performed and recorded with such jazz and funk heavyweights as Fred Wesley, Gary Bartz, Melvin Sparks, Reuben Wilson and Andy Bey. Robert's own songwriting combines a vinyl junkie's passion for classic soul jazz, boogaloo, and funky 45's with a southern california attitude that one might expect from a San Diego native... laid back and groovy but still searching for the new. 
The 20th Congress is a new band with a new groove and a national reputation for tough, intense live performances. For "Money Shot", his debut full-length recording for Fog City, Robert enlisted Galacticdrummer (and fellow Fog City recording artist) Stanton Moore to inject a bit of Crescent City syncopation into the project. The inevitable result: beats that make you go mmmngghmgh... Also contributing to the Twentieth Congress gumbo are some of the baddest players from the San Diego funk scene: Cochemea Gastelum (whose electric alto sax and use of echo effects recalls shades of his heroes Eddie Harris and Bennie Maupin), bassist David Carano, percussionist Chuck Prada and Greyboy Allstars guitarist Elgin Park.
The live recordings captured on the "MONEY SHOT" CD have the spontaneity of new friends trading old stories, the sophistication of real songwriting and honest musicianship, and enough soulful swagger to keep you struttin' through your next backyard barbeque.
This is an ENHANCED CD! In addition to an hour of supersonic soul jazz, this CD can also be placed in the CD-ROM drive of most computers for a multimedia experience that includes a virtual "hands on" mixing board, bonus audio tracks, live performance video, press kit and lots more. AllAboutJazz called it "one of the best CD-enhanced packages I've seen."
"MONEY SHOT" is out now! available through our online record shop and at hip shops everywhere. 
Note that despite packin' all this heat, Money Shot is priced like a regular audio CD.
---
''RECORDING OF THE MONTH - It sounds strange to say this about a funk record, but the ability to ice a groove with such astute touches as knowing where to add tasty accents, remaining conscious of the balance of retro and contemporary, and, most of all, knowing when the jam has nothing more to say, are what give Money Shot its soul. In the end, that's what funk, and every other worthy music on the planet, is all about." (Stereophile Magazine)
---
''Thought after thought spring from his fingers without a single break in the flow. The title track is a magnificent centerpiece: a journey into the cosmic jazz heart a la Mwandishi era Herbie Hancock/Weather Report. Its shape-shifting, disjointed groove is broken by astral-tinged flights of fancy that increasingly head for stranger territory." (allmusic.com)
---
''In the past, the Bay area-based Fog City label brought us fine discs by New Orleans funksters Galactic and that band's drummer, Stanton Moore, among others. With Moore sitting in on the drum throne, organist/pianist Walter's Money Shot was guaranteed from the get-go to mine the same sassy, syncopated grooves as those earlier releases. The quartet plies heavy funk with grinding organ and electric sax ([Everybody Wanna Get Rich] Rite Away); spacey, effects-laden, human-generated techno (Blues For Y2K); and reverent Jimmy Smith-style soul-jazz (White Russ)... fine groovestuff indeed." (Tower Pulse! Magazine)
---
''a delicious, grandma's-recipe stew of meaty organ tones, salty sax, fatback drums, and chewy bass (Keyboard Magazine)
---
''Perfect for the backyard BBQ or the downtown lounge, Money Shot is a fine solo debut from Walter and another great addition to the Fog City catalog (Tad Hendrickson, amazon.com)
---
''the next frontier for avant-funksters ( Offbeat Magazine)
---
''Walter's Congress hands [Stanton] a bunch of quick, tasty drum breaks throughout the LP. Since history repeats itself, look for sampled snippets of these tiny solos to enliven the funk tracks of the future ( Modern Drummer Magazine)
---
''when it comes to making a Hammond B3 organ squall, squeal, shake, gurgle and groove, t'aint nobody badder ( Island Ear)
---
''Perfect for the backyard BBQ or the downtown lounge, Money Shot is a fine solo debut from Walter and another great addition to the Fog City catalog." ( Amazon.com)
---
''as a bandleader, Walter's strength lies in allowing each musician to do their best work, even when it overshadows his own keyboarding. Which is prodigious -- simple when it needs to be, virtuosic when it makes sense. They don't make 'em like this anymore -- this is jazz that's not improvisational or avant-garde, nor self-conscious in any way. It's just simple, straight-up funk that makes you realize how pretentious jam bands really are. When you've got good music and a good group of musicians, you don't need 20 minutes to get your groove on. It's already on to begin with." ( Philadelphia Weekly)
---
''With a sound that is as cerebral as it is danceable, Robert Walter's 20th Congress will literally move you from head to toe. ( Asheville Citizen-Times)
---
''an inspirational performer and composer whose spirited works convey the infectious energy of 1970's boogaloo without sounding dated or cliche (Rob Hillard, Deadheads Music Calendar)
---
''The classic soul-jazz organ combo is alive and well. Live audiences would have to be on their feet dancing within seconds. powerful music with swirling changes in mood... music that's both thought provoking and physical. (AllAboutJazz.com)
---
''a young, stunningly talented group (Buffalo State Record)
---
''Money shot is killing me. A local friend got his two days ago- I went over and listened and that album is so sick. Save me from that first song. I only listened to it twice and walked away with 2 conclusions. 1: It's much better than Spirit of 70 (which is great) 2: Stanton has the HEAVIEST sound I've ever heard, period." (Lee, posted to the Galactic Syncopage)
---
''whats up...i just wanted to send my complements to the chef if you will. i just pulled "Money Shot" out of the car and popped it in my computer at work. i have now spent the last hour not working but instead messing with your fantastic interactive disk. absolutely brilliant. i have purchased all of the fogcity records since the first galactic disk. my thanks to you for putting out such good stuff. and the interactive cd is such a good idea. if you don't already have a patent on the idea you should get one. seriously... keep up the fantastic work." (Tim, a fan)