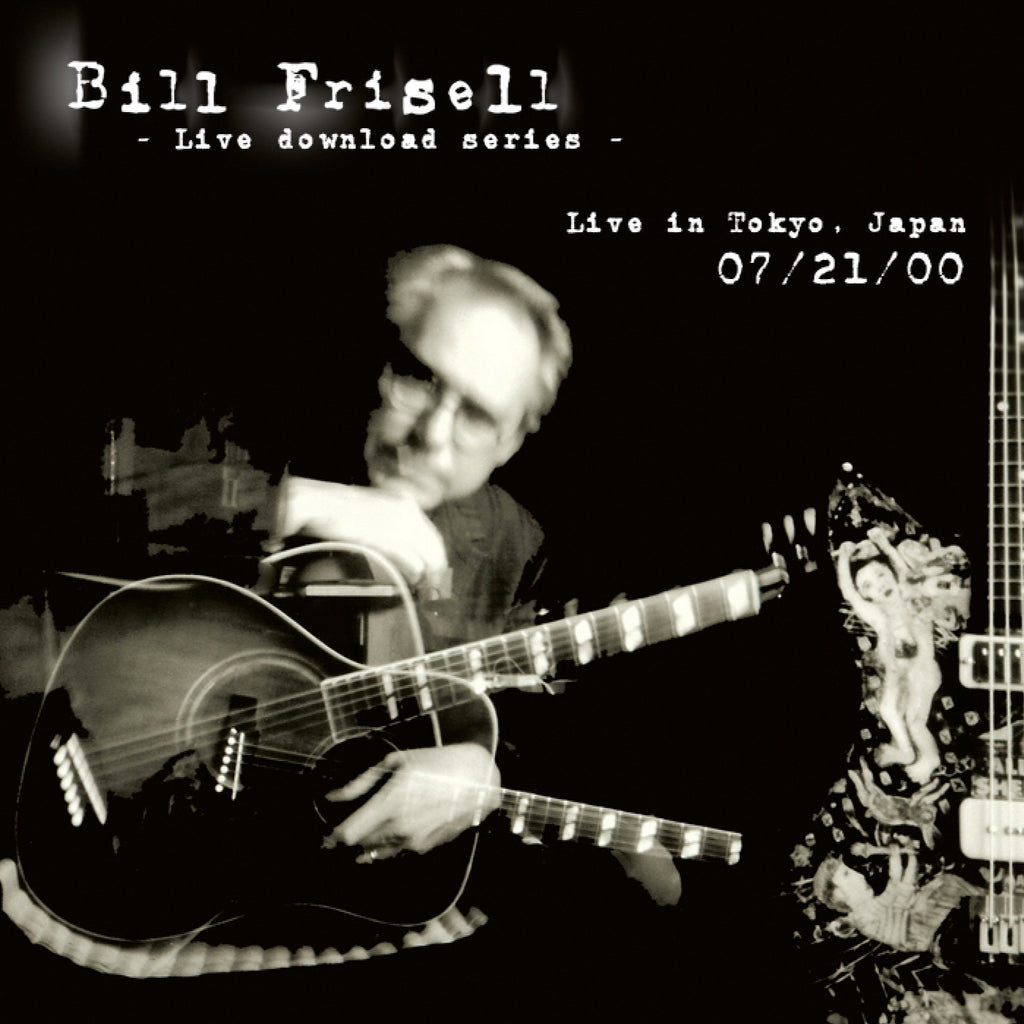 Bill Frisell Live In Tokyo, Japan 07/21/00
Live Download Series #013
Release Date:
November 24th, 2010
SONG SAMPLES:
x.mp3 Ron Carter
x.mp3 Follow Your Heart
x.mp3 Hard Times
x.mp3 That Was Then
x.mp3 Twenty Years
MUSICIANS:
Bill Frisell
 - electric and acoustic guitar
Tony Scherr
 - bass
Kenny Wollesen 
- drums
SONG LIST:
CD1
01 Throughout
02 Improvisation 072100
03 Blues For Los Angeles
04 Keep Your Eyes Open
05 Blues Dream
06 Ron Carter
07 Shenandoah
CD2
08 Follow Your Heart
09 Hard Times
10 That Was Then
11 Big Shoe
12 Twenty Years
13 Mr. Memory
Total running time: 1:33:30

All songs written by Bill Frisell except: Shenandoah (traditional), Follow Your Heart (John McLaughlin) and Hard Times (Stephen Foster)


Recorded by Claudia Engelhart at Tokyo Act Theater in Tokyo, Japan 
Frisell Archivist: Martin Lane
Produced by Adam Blomberg

A Songline / Tone Field Production


REVIEW
All About Jazz
January 26, 2011
By John Kelman
The most recent installment in the Live Download Series returns to the trio that Frisell counted on for much of his touring in the early part of the 21st century—especially if the budget was small and it wasn't practical to bring a larger ensemble. Frisell, Tony Scherr and Kenny Wollesen were still relatively new friends at the time of this recording, and wouldn't actually get documented as a unit until five years later, when East/West was released—much as the guitarist's most recent drummer, Rudy Royston, wouldn't show up on record until 2010's Beautiful Dreamers (Savoy, 2010), despite playing with Frisell since 2007.
 The set list is relatively cross-sectional, dating as far back as In Line's dark-hued "Throughout" to more recent music from Good Dog, Happy Man, like the traditional "Shenandoah" and funkier "Big Shoe"; Gone, Just Like a Train's relentless "Blues for Los Angeles"; and Nashville's curious "Mr. Memory." There's also a smattering from Blues Dream, including the shorter, atmospheric title track, leading into an hypnotic version of "Ron Carter," where Scherr's robust bass provides a solid foundation over which Frisell layers loops, strange otherworldly sounds, and the smoothly overdriven tone he'd begun to favor over that of his sharper-edged New York days.
 The highlight of the two-disc, 93-minute set is, however, a version of John McLaughlin's "Follow Your Heart," which also appears on #004, with Frisell's unrecorded trio with Sam Yahel and Brian Blade. Frisell had, in fact, been playing this tune as far back as 1997, when he was touring with the Quartert group. In contrast to the organ trio's lighter-complexioned version, Scherr and Wollesen dig in hard, pushing Frisell's overdriven guitar to extremes that once speak against any perceived loss of edge. If Cream had an acoustic bass, and a drummer with a stronger predilection for behind the beat playing, it might have sounded something like this—though Frisell plays with greater sophistication than Eric Clapton ever has, and—and considerably more constraint, to boot.  - John Kelman - All About Jazz
For the complete Download Series review visit All About Jazz here.