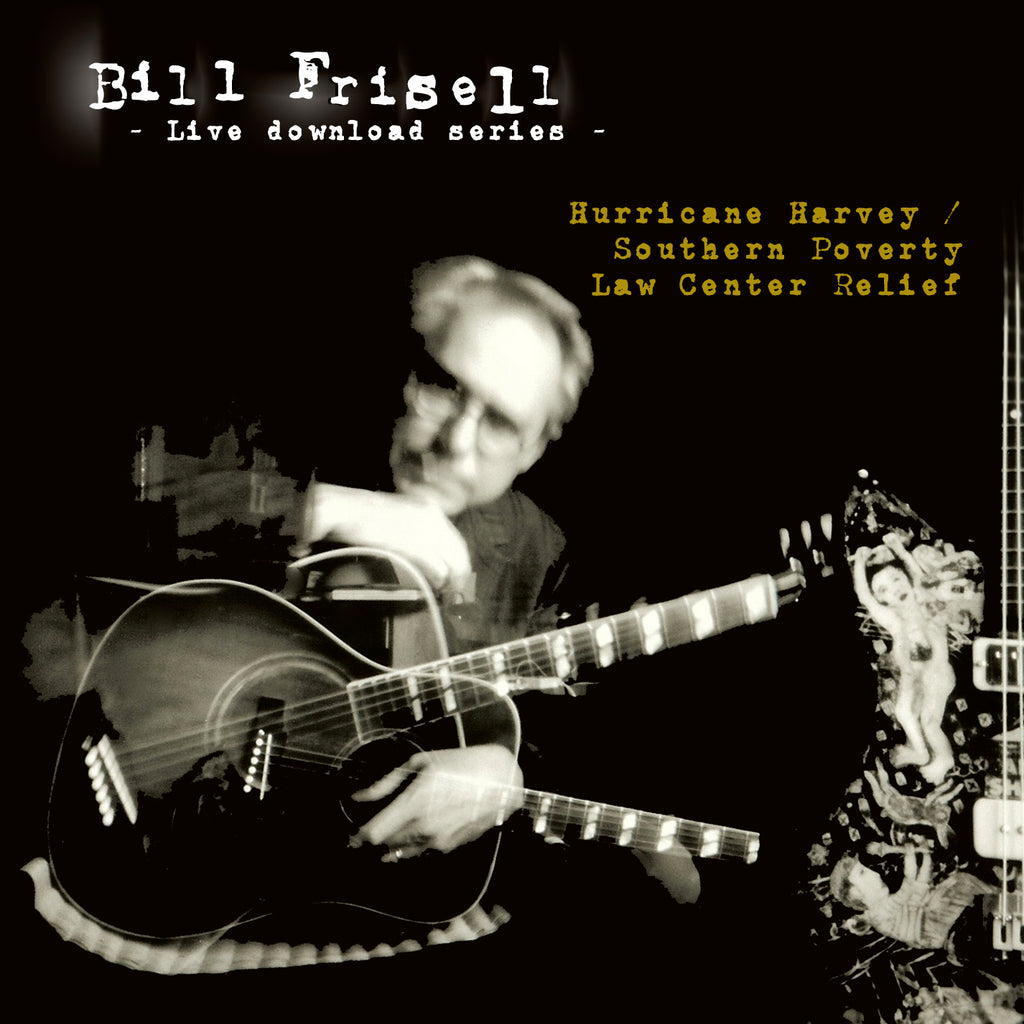 Bill Frisell - Hurricane Harvey / Southern Poverty Law Center Relief
Live Download Series #022
A COMPILATION FROM BILL'S LIVE DOWNLOAD SERIES 
Release Date: September 15, 2017
Hurricane Harvey download has been renamed Hurricane Harvey / Southern Poverty Law Center Relief with proceeds permanently going to Southern Poverty Law Center. 100% of the profits will go to Southern Poverty Law Center.
"These are sparse, beautiful recordings - indeed, that's Frisell's trademark - compiled here for a humanitarian cause." - No Depression



Frisell's special download, compiled and assembled by producers Lee Townsend and Adam Blomberg, includes all original compositions performed live with many of his long-standing musical colleagues, including Brian Blade, Sidiki Camara, Vinicius Cantuária, Matt Chamberlain, Christos Govetas, Eyvind Kang, Viktor Krauss, Greg Leisz, David Piltch, Hank Roberts, Ron Miles, Jenny Scheinman, Tony Scherr, Kenny Wollesen & Sam Yahel.
SONG SAMPLES:
x.mp3 Boubacar
x.mp3 Lazy Robinson 
x.mp3 Strange Meeting
x.mp3 Ron Carter
x.mp3 1968 
SONG LIST:



1. Boubacar 6:23
RECORDED LIVE IN SEATTLE, WA 2/21/06
from series 011

Bill Frisell - electric & acoustic guitar
Greg Leisz - pedal steel & dobro
David Piltch - bass
Kenny Wollesen - drums


2. Listen 10:20
RECORDED LIVE IN BOULDER, CO 11/05/03
from series 006

Bill Frisell - electric & acoustic guitar
Greg Leisz - pedal steel
Jenny Scheinman - violin
Christos Govetas - oud, vocals, bouzouki
Sidiki Camara - percussion, vocals
Vinicius Cantuária - acoustic guitar, vocals


3. Lazy Robinson 6:47
RECORDED LIVE IN BOCHUM, GERMANY 5/22/04
from series 001

Bill Frisell - guitar
Ron Miles - cornet
Jenny Scheinman - violin
Viktor Krauss - bass
Matt Chamberlain - drums


4. Strange Meeting 12:11
RECORDED LIVE IN NEW YORK, NY 5/01/04 - SET 3
from series 004

Bill Frisell - guitar
Brian Blade - drums
Sam Yahel - organ


5. Ron Carter 11:23
RECORDED LIVE IN BUDAPEST, HUNGARY 03/29/03
from series 011

Bill Frisell - electric & acoustic guitar
Greg Leisz - pedal steel & dobro
David Piltch - bass
Kenny Wollesen - drums


6. Throughout 11:04
RECORDED LIVE IN NEW YORK, NY 5/01/04 - SET 3
from series 004

Bill Frisell - guitar
Brian Blade - drums
Sam Yahel - organ


7. 1968
RECORDED LIVE IN SEATTLE, WA 2/21/06
from series 007

Bill Frisell - guitar
Tony Scherr - bass
Kenny Wollesen - drums
Hank Roberts - cello
Jenny Scheinman - violin
Eyvind Kang - viola

Total Running Time: 1 hour, 13 minutes
All compositions written by Bill Frisell

Executive Producer: Phyllis Oyama
Selections by Lee Townsend
Produced by: Lee Townsend & Adam Blomberg
Engineered by: Claudia Engelhart
Frisell Archivist: Martin Lane
Bill's Web Team: Dave Schwartz & Scott White at Fast Atmosphere
Social Media Extraordinaire: Kevin Lee

A Songline / Tone Field Production