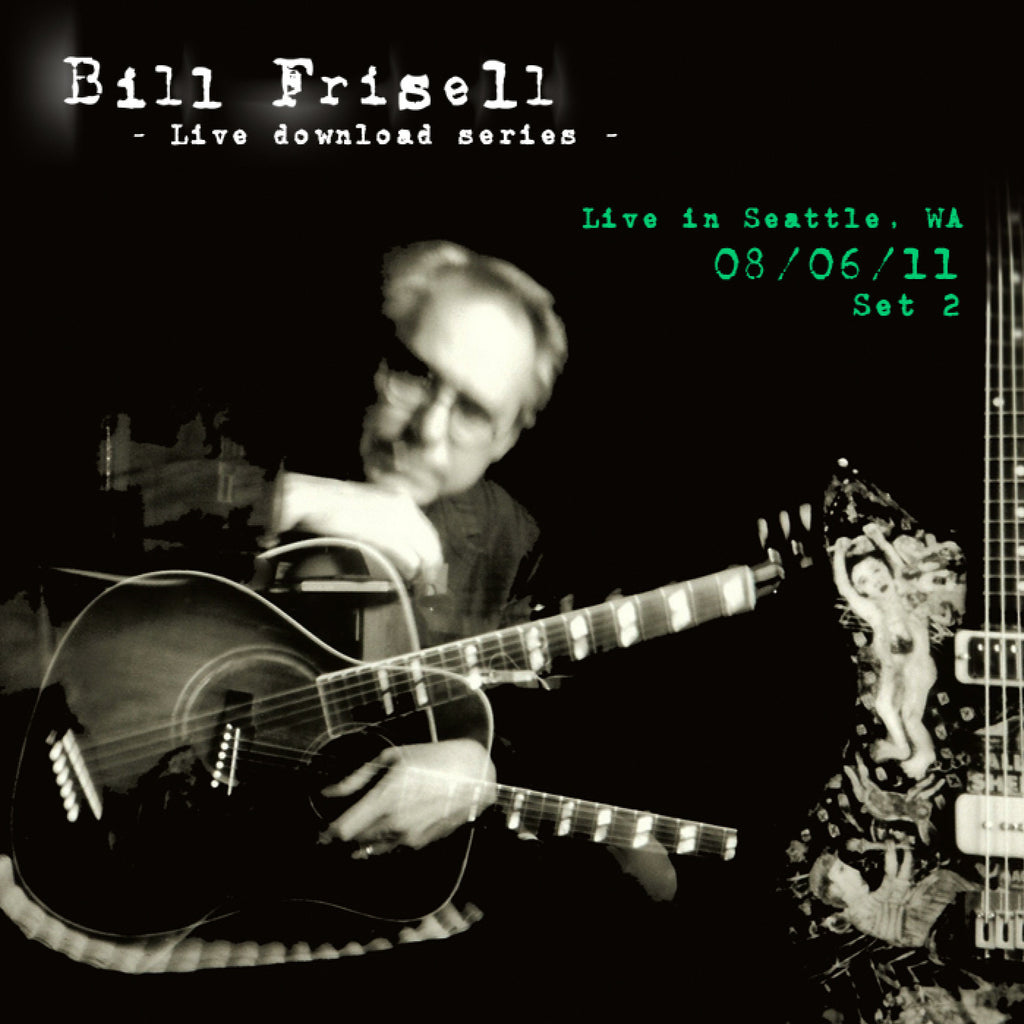 Bill Frisell Live In Seattle, WA 08/06/11 Set 2
Live Download Series #015
Release Date:
November 16th, 2011
SONG SAMPLES:
x.mp3 Hard Times Come Again
x.mp3 Tea for Two
x.mp3 Winslow Homer
x.mp3 26-2
x.mp3 Strawberry Fields Forever
MUSICIANS:
Bill Frisell
 - electric guitar
Eyvind Kang
 - viola
Rudy Royston
 - drums
SONG LIST:
01. Introductions :54
02. Hard Times Come Again No More 8:54
03. Baba Dramé 10:10
04. Improvisation 1-080611 5:08
05. Tea For Two 8:09
06. Winslow Homer 9:22
07. Goin' Out Of My Head 7:51
08. 26-2 9:42
09. Strawberry Fields Forever 7:59
10. Give Peace A Chance 4:29

All songs written by Bill Frisell except: Hard Times Come Again No More (Stephen Foster), Baba Dramé (Boubacar Traore), Tea For Two (Vincent Youmans), Goin' Out Of My Head (Teddy Randazzo & Bobby Weinstein), 26-2 (John Coltrane), Strawberry Fields Forever (John Lennon & Paul McCartney), Give Peace A Chance (John Lennon)


Recorded by Claudia Engelhart at Jazz Alley in Seattle, WA 
Frisell Archivist: Martin Lane
Produced by Adam Blomberg

A Songline / Tone Field Production


REVIEW
Heard literally two weeks and 3,500 miles apart first, in Ottawa, Canada on June 25 and then in Kongsberg, Norway on July 9, 2010, Frisell's then-new Beautiful Dreamers trio had already made significant strides. Featuring violist Eyvind Kang and drummer Rudy Royston - a relative newcomer to Frisell's growing cadre of players from whom to draw, having performed one of his first live dates with the guitarist just three years previous in Ottawa in 2007 - the trio had yet to release its self-titled Savoy Jazz debut the following month. This recording, from Seattle, WA nearly a year after the album's release, finds the trio even more empathically connected... no surprise, perhaps, and especially because both Kang and Royston have, since first hooking up with Frisell (in Kang's case, in 1996 for the guitarist's Quartet (Nonesuch)), collaborated with the guitarist in so many different projects.
What might be a surprise, however, is how little of Beautiful Dreamers, the album, shows up in this live set list. A suitably quaint but far more experimental version of Vincent Youmans' "Tea for Two" is performed back-to-back with a much longer take on Frisell's own "Winslow Homer," which ultimately reveals itself to be an abstruse blues, but one where Kang's added delay, wah-wah pedal and pitch-shifted pizzicato render the trio's lack of a bassist all but irrelevant. Frisell has, in fact, worked in many bass-less contexts, starting with Paul Motian's trio with saxophonist Joe Lovano, which was just entering its second quarter century of existence when the drummer passed away, but the combination of guitar, viola and drums has always seemed like one of Frisell's more unusual lineups.
The trio also revisits Teddy Randazzo and Bobby Weinstein's "Goin' Out of My Head," originally a hit for Little Anthony & The Imperials in 1964, but here demonstrating just how easily Frisell can be simultaneously reverent andirreverent. Clearly, time is something that's on his mind these days, as his introduction to the set includes an unusually chatty anecdote:
"Did anybody see when The Rolling Stones appeared on The Ed Sullivan Show, and Mick Jagger was standing behind Ed Sullivan sort of imitating him and stuff? I thought that was just so rude of him to be doing that...but I'm glad he did because I can still remember it."
Along with another look at "Baba Drame," Frisell, Kang and Royston also provide the audience with a taste of what was to come the following month, when the guitarist released All We Are Saying... (Savoy Jazz, 2011), his John Lennon tribute, despite neither Kang nor Royston appearing on it and one of the two tracks played here - "Strawberry Fields Forever" - not appearing on the album proper, only as a solo guitar bonus track on iTunes. Still, both "Strawberry Fields" and "Give Peace a Chance" demonstrate the trio's pliant ability to honor a song while twisting and turning it into something the composer could never have imagined possible. "Strawberry Fields" retains all the song's significant markers in a reading that ranges from ethereal to grounded and, at one point, even kicking things up when Frisell throws some gritty distortion into the mix.
But it's really just evidence of Frisell's desire to scope out good music and use it as grist for collective interpretation, where instruments often shift responsibilities like a well-trained tag team and, if it's not possible to play all the components in a song, then suggest them through uncanny implication. Clearly, a year after its inception, the Beautiful Dreamers trio still had plenty of life, and live recordings such as this only engender hopes that there's still more to come.