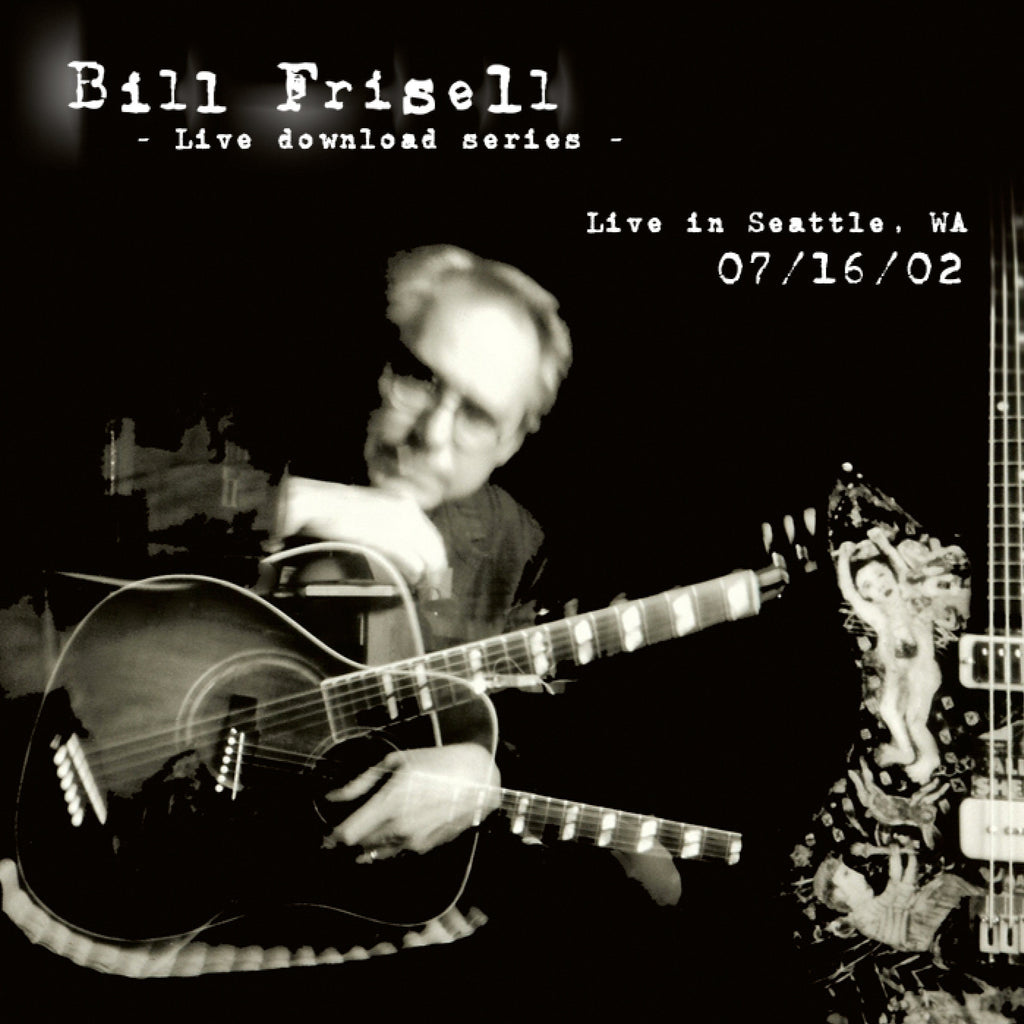 Bill Frisell Live In Seattle, WA 07/16/02
Live Download Series #012
Release Date:
September 29th, 2010
SONG SAMPLES:
x.mp3 Worse and Worse
x.mp3 Faces
x.mp3 Lazy Robinson
x.mp3 Mandala
x.mp3 Frogs
MUSICIANS:
Bill Frisell - electric guitar
Ron Miles - cornet
Jenny Scheinman - violin
* Jim Woodring - visual animations
* This performance was performed live to projected animations created by Jim Woodring. Since music and visuals were meant to compliment each other, the video files were included in the download and also have the live music embedded into the files (thanks to John Cocci for video editing)
SONG LIST:
01 Introduction 071602 1:32
02 Worse and Worse 16:07
03 Faces 8:16
04 Lazy Robinson 23:11
05 Mandala 8:43
06 Frogs 15:12
07 Whimgrinder 1:23
Total running time: 1:14:22


VIDEO FILES:
01 Worse and Worse 16:07
02 Faces 8:16
03 Lazy Robinson 23:11
04 Mandala 8:43
05 Frogs 15:12
06 Whimgrinder 1:23

All songs written by Bill Frisell

Recorded by Claudia Engelhart at Meany Hall in Seattle, WA
Video Editing: John Cocci 
Frisell Archivist: Martin Lane
Produced by Adam Blomberg

A Songline / Tone Field Production


REVIEW
All About Jazz
January 26, 2011
By John Kelman
Another unusual collaboration: the same front line as on #001, Frisell, Jenny Scheinman and Ron Miles, but without a rhythm section, and as part of a project that includes visual animation by Jim Woodring, the artist responsible for a number of Frisell's CD covers including Gone, Just Like a Train and Bill Frisell with Dave Holland and Elvin Jones. At the start of the performance, Frisell says, "I just can't do it; I was gonna explain what we're gonna do, but now that I'm up here, in front of you all, I just can't do it. So you'll just have to...figure out for yourselves."
The good news is that this download also includes video files, so it's possible to see Woodring's animation accompanying Frisell's music, which includes music from Bill Frisell, Ron Carter, Paul Motian ("Worse and Worse") and History, Mystery ("Faces" and "Lazy Robinson"). But beyond the unusual instrumentation of guitar, cornet and violin, it's the presence of three more tunes that have not shown up on any of Frisell's other recordings to date - the dark-hued "Mandala," comedic "Frogs" and countrified closer, "Whim Grinder" - that make this yet another essential download.
Frisell has always been about tone, dating back to ECM recordings like Arild Anderesen's Molde Concert (1982) and Jan Garbarek's Wayfarer (1983), but by this time a combination of technological advancements and a clearer vision of the moving target of a sound to which he, like so many musicians, constantly aspire, gives him a clearer and more orchestral palette from which to work. It's hard to imagine that these three instruments can create such a broad soundscape, but they do, making this Live Download Series installment one of Frisell's most intimately revealing. - John Kelman - All About Jazz
For the complete Download Series review visit All About Jazz here.