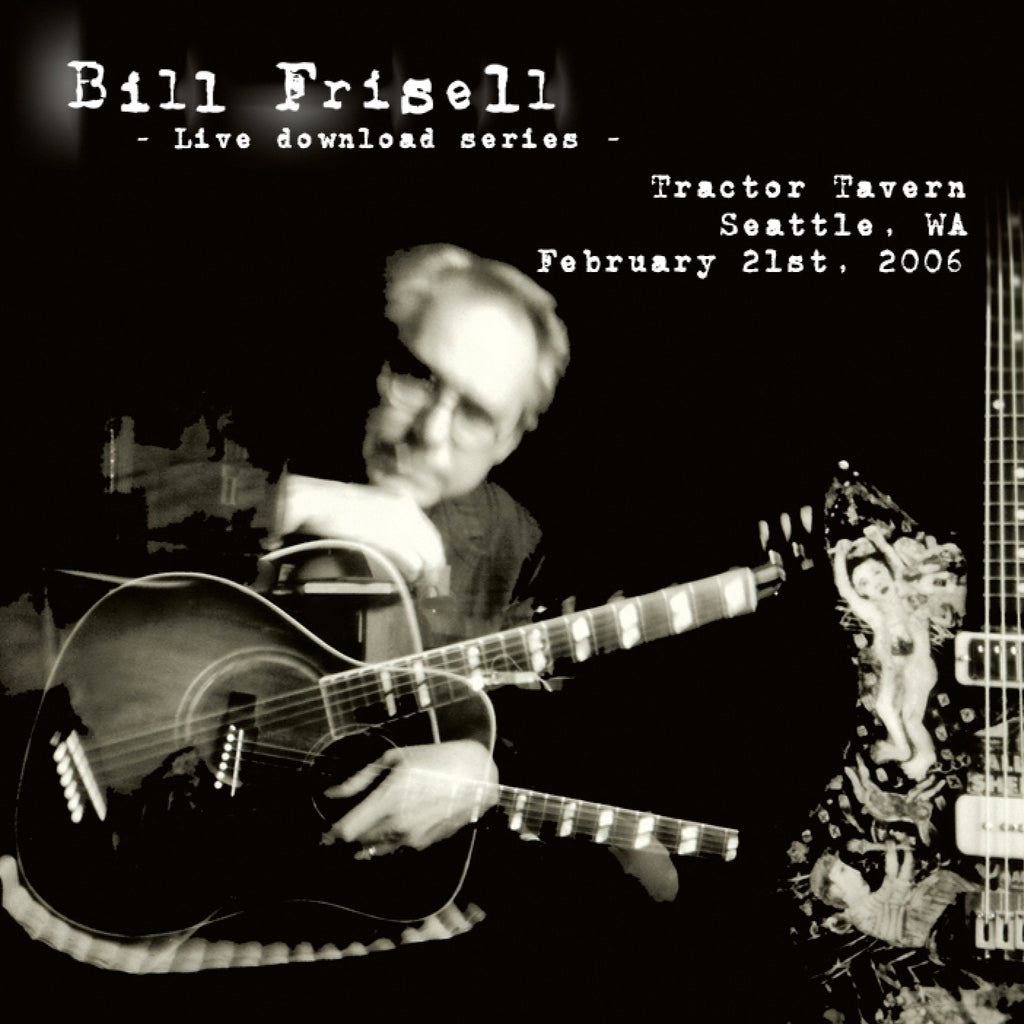 Bill Frisell Live In Seattle, WA 02/21/06
Live Download Series #007
Release Date:
October 28th, 2009
SONG SAMPLES:
x.mp3 You Are My Sunshine
x.mp3 1968
x.mp3 Alias
x.mp3 Good Bye, Good Bye, Good Bye
x.mp3 What's Going On?
MUSICIANS:
Bill Frisell
 - electric guitar
Eyvind Kang
 - viola
Rudy Royston
 - drums
SONG LIST:
01 Improvisation #1               5:23
02 You Are My Sunshine           15:45
03 Improvisation #2               3:14
04 1968                          19:38
05 Alias                         11:52
06 Good Bye, Good Bye, Good Bye   9:01
Bonus Track (from set 2)


07 What's Going On?              11:22
Total running time: 1:16:12


All tracks composed by Bill Frisell except: You Are My Sunshine (Jimmie Davis), Alias (Bill Frisell/Hal Wilner/Eric Liljestrand), Good Bye Good Bye Good Bye (Bill Frisell, Hal Wilner, Teddy Lasry), What's Going On? (Marvin Gaye)

Recorded by Claudia Engelhart at the Tractor Tavern in Seattle, WA 
Frisell Archivist: Martin Lane
Produced by Adam Blomberg

A Songline / Tone Field Production


REVIEW
All About Jazz
January 26, 2011
By John Kelman
 This is one of the more curious shows of the series. Frisell combines his Scherr/Wollesen trio with Scheinman/Kang/Roberts 858 group, for a 76-minute set drawing mostly from Unspeakable, though only three of the album's 14 songs are represented; the rest combines of group improvisation, a lengthy version of "You are My Sunshine" that references classical composers Gavin Bryars and Aaron Copland. Form meets freedom, as the familiar theme and changes lead to a middle section where Kang, in particular, demonstrates a combination of respect and healthy irreverence that explains why he's been a constant companion for Frisell, dating back to Quartet (Nonesuch, 1996) and right through to today for the guitarist's most recent release, Beautiful Dreamers (Savoy Jazz, 2010). The presence of a conventional rhythm section means that this version of "What's Going On" grooves more decidedly, but not until Frisell has set the stage with a combination of ethereal, loop-driven atmospherics and long string trio tones.
Some of Frisell's inherent appeal rests on the skewed edge he brings to everything he approaches; he's a rare guitarist who can take a standard chord, and turn it on its side by moving but a single note up or down a semitone. Jagged and noisy, the intro to Unspeakable's opener, "1968," combines angular harmonics, scraped strings and an apparent chaos of cross-rhythmic complexity apparent, because the group manages to magically coalesce a mere minute into this 20-minute version of an originally four-minute tune that's as propelled by Wollesen's Jim Keltner- like backbeat, as it is the group's collective interplay, pushing the song towards a thundering climax, and a seamless morph into a faster than usual version of The Intercontinentals' "Baba Drame."
 What's, perhaps, most remarkable about this Unspeakable sextet is its ability to seamlessly marry structure and liberated thinking; these are not traditional, improvisation-averse classical string players, and so there's collective interpretation and empathic interplay taking place throughout, even in its approach to linking defined songs together with freely improvised segue sections. As capable as the group is of propulsive material, it's as sweet as can be on Frisell's closer to Unspeakable, "Good Bye, Good Bye, Good Bye," here almost exactly the same length and following a similar structural roadmap, but, without Hal Wilner's samples and turntables, reliant on Frisell's mad scientist bag of effects to lend it its otherworldly complexion. - John Kelman - All About Jazz
For the complete Download Series review visit All About Jazz here.