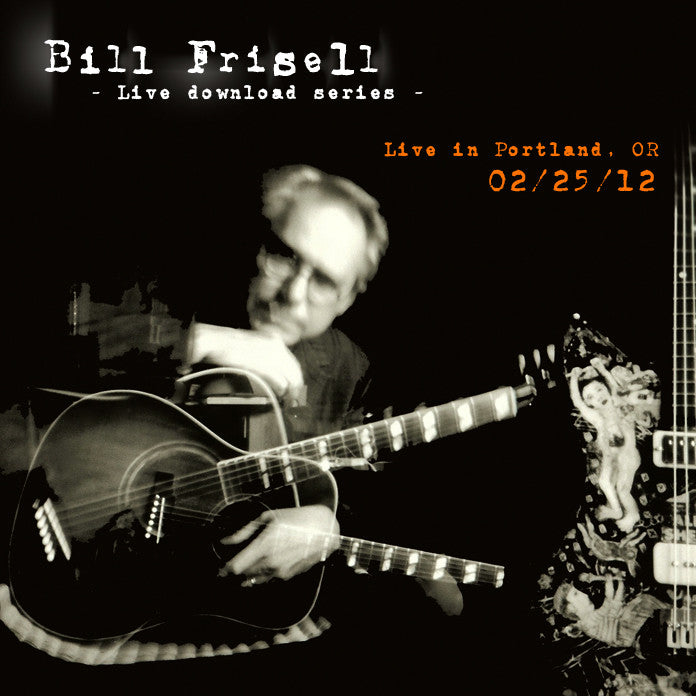 Bill Frisell Live In Portland, OR 02/25/12
Live Download Series #017
Release Date: 
November 6th, 2012
SONG SAMPLES:
x.mp3 It's A Long Story (1)
x.mp3 Friends Of Mine
x.mp3 Cluck Ol' Hen
x.mp3 

Wonderland
MUSICIANS:
Bill Frisell
 - electric guitar
Hank Roberts
 - cello
Jenny Scheinman
 - violin
Eyvind Kang
 - viola
SONG LIST:
01 Introductions 022512
02 It's A Long Story (1)
03 Old Times
04 Sign Of Life
05 Friends Of Mine
06 Cluck Ol' Hen
07 Wonderland
08 It's A Long Story (2)
09 Skippy
10 Strawberry Fields Forever
Total running time 1:03:08
All songs written by Bill Frisell except: Cluck Ol' Hen (traditional), Skippy by Thelonious Monk and Strawberry Fields Forever by J. Lennon and P. McCartney


Recorded direct to two track from the sound board by Claudia Engelhart 
Frisell Archivist: Martin Lane
Produced by Adam Blomberg

A Songline / Tone Field Production


REVIEW
All About Jazz
January 26, 2011
By John Kelman
The most recent installment of Frisell's Live Download Series is from one of the guitarist's more recent shows, his 858 Quartet - violinist Jenny Scheinman: violist Eyvind Kang and cellist Herb Roberts---performing a chunk of music from its most recent Sign of Life (Savoy, 2011) in Portland, Oregon. This string quartet where Frisell essentially replaces one of the violinists also covers pianist Thelonious Monk's "Skippy" with considerably more success than world-renowned Kronos Quartet's sadly unsuccessful Monk Suite: Kronos Quartet Plays Music of Thelonious Monk (Landmark, 1985) , and for one simple reason: as superb as Kronos was at the time of its recording (daring, even), it was still connected to the classical sphere albeit of the most contemporary kind and not particularly astute in the area of improvisation, though perhaps this has changed in the ensuing 28 years.
With Scheinman, Kang and Roberts all excellent improvisers as well as tremendous interpreters of structure so much so that, in Sign of Life's credits, Frisell cites "All arrangements (on the spot and subject to change) by Bill Frisell, Eyvind Kang, Hank Roberts and Jenny Scheinman". It's not just a matter of approaching Frisell's music with completely open minds; these four players have, by this time, worked together in so many different contexts that there's little need for discussion, so deep is the empathy shared amongst them. "Skippy" may be short, but it proves that even a string quartet can swing with the right players.
The majority of the set is taken up by the first six pieces on Sign of Life, suitably expanded and with a take on the traditional "Cluck Ol' Hen" thrown in between "Friends of Mine" and "Wonderland" so seamlessly as to suggest it might have deserved a place there on the studio album. While some of effects that Frisell employs far more liberally on other recent Live Download Series installments can be found here, he's far more judicious, introducing a ring modulated pattern at the end of "Friends of Mine" that helps segue into "Cluck Ol' Hen," with Scheinman acting as the real catalyst for change.
With All We Are Saying... Frisell's most recent release at the time of this February, 2012 show, it's no surprise that the guitarist chooses to throw in a version of "Strawberry Fields Forever" (again, noting that it's only available as an iTunes bonus track). Even though the arrangement is, indeed, developed on the fly as, clearly, is the quartet's live suite from Sign of Life it's a more compelling version than on #015: Seattle, WA August 6, 2011, if only because there's more instrumentation available, though Frisell does resort, in both versions, to some backwards-guitar gymnastics, but this time over a far more extended coda. Despite the two versions being nearly the same length (858 Quartet's near-nine-minute version a minute longer), they demonstrate, perhaps more effectively than any other track amongst these four Live Download Series releases, just how absolutely open-minded, open-ended and completely unfettered Frisell is, regardless of the music's source and irrespective of context.
While earlier groups and performances were, as evidenced by #016: Florence, Italy February 10, 1993, cunning combinations of form and freedom, the structure and the order of the set lists weremore firmly defined. What has been most impressive about Frisell's evolution over the past several years, has been just how flexible his live sets have become. Nobody, perhaps, is more surprised at the outcome than Frisell and whatever group he happens to be playing with, whether it's the John Lennon tribute in Ottawa, Canada or the live soundtrack performance to Bill Morrison's The Great Flood at Enjoy Jazz in Ludwigshafen, Germany this past November. Frisell's ongoing evolution continues—with great thanks to his commercial releases, a grueling tour schedule and, since 2009, this extraordinary Live Download Series a very public one, and both his existing fans and the world of music not just jazz, but music as a whole are all the richer for it.
 - John Kelman - All About Jazz
For the complete Download Series review visit All About Jazz here.
by All About Jazz / John Kelman