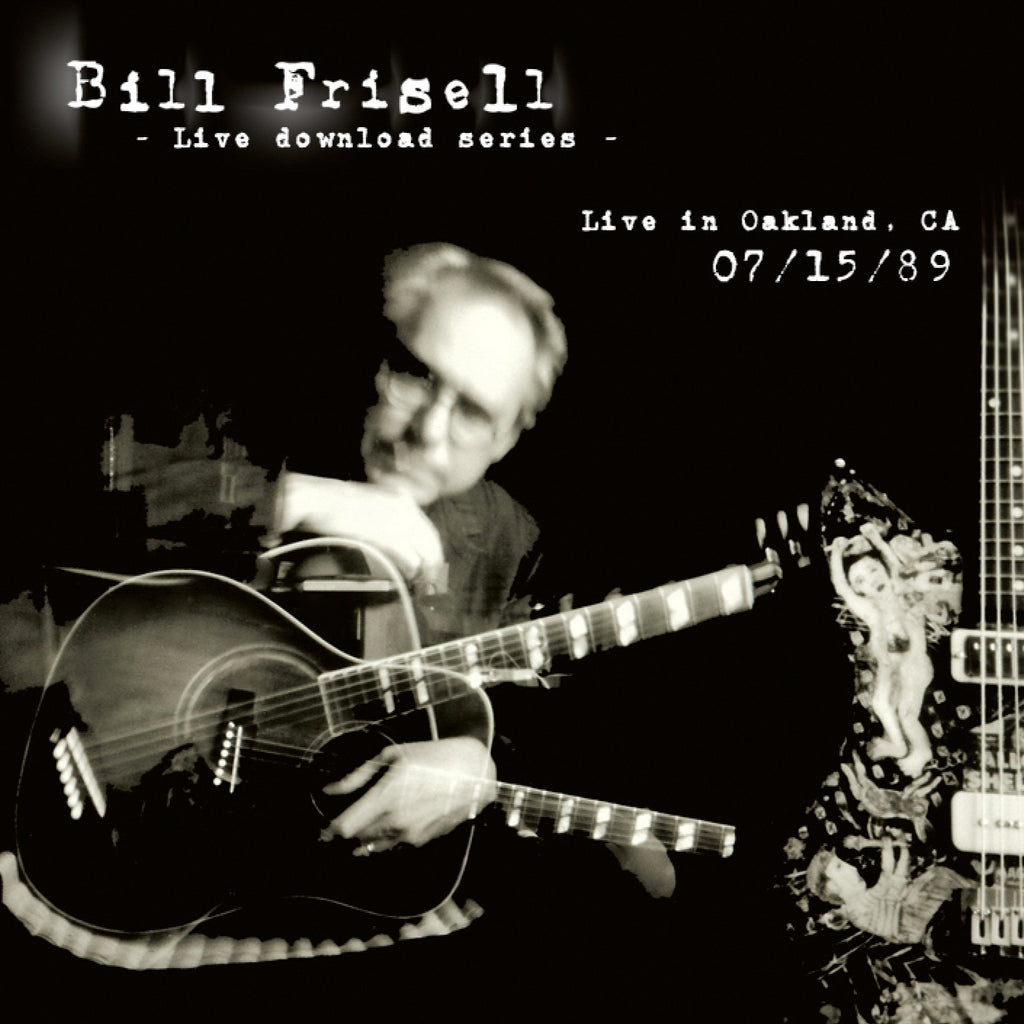 Bill Frisell Live In Oakland, CA 07/15/89
Live Download Series #010
Release Date: 
May 8th, 2010
SONG SAMPLES:
x.mp3 When We Go
x.mp3 Hard Plains Drifter
x.mp3 Unscientific Americans
x.mp3 

Devil Suit


x.mp3 Amarillo Barbados
MUSICIANS:
Bill Frisell
 - electric guitar
Hank Roberts
 - cello
Kermit Driscoll
 - bass
Joey Baron
 - drums
SONG LIST:
01 Hang Dog 6:09
02 When We Go 9:52
03 Hard Plains Drifter 20:51
04 One Week (Theme) 6:34
05 Unscientific Americans 8:05
06 Drum solo 1-071589 5:06
07 Devil Suit 6:21
08 Alien Prints 4:51
09 Amarillo Barbados 8:38
10 Hello Nellie 8:25
total running time: 1:24:46

All tracks composed by Bill Frisell, Hard Plains Drifter arranged by John Zorn


Recorded by Bob Shumaker at Yoshi's in Oakland, CA
Frisell Archivist: Martin Lane
Produced by Adam Blomberg

A Songline / Tone Field Production


REVIEW
All About Jazz
January 26, 2011
By John Kelman
Live Download Series #010 travels back another three years behind #009, to the time when Frisell made the break from his early days at ECM, and the start of what would become a two-decade run for Nonesuch. It also further demonstrates the fundamental difference between live and studio recordings. "Unscientific American," which appears here long before Frisell would record it as a structured, 48-second miniature on This Land, is a more expansive eight-minute piece, where its idiosyncratic theme acts as a jumping-off point and, mid-piece, rallying point for collective improvisation, while Lookout for Hope's "Hangdog," this set's opener, goes to far more extreme places than its studio counterpart; Frisell's overdubbing replaced by a repeated bass/cello pattern that drives an overdriven guitar solo, far edgier and expressionistic than anything he's done in recent years.
 With other material from Lookout and Rambler, the high point of the 80- minute set is the extended version of "High Planes Drifter," from Frisell's Elektra/Nonesuch debut, 1989's Before We Were Born. Arranged by the New York Downtown scene's influential John Zorn, it reflects a very different Frisell from what came before...and what would come after. During Frisell's own New York days, he moved away from the ethereal atmospherics of some of his earlier ECM work, towards a more aggressive tendency that, nevertheless, reflected the almost geeky idiosyncrasies of a guitarist as capable of ear-shattering shredding as he was moody tone poems, a broader range of expressionism that was prerequisite for his membership in Zorn's Naked City. Still, the episodic "High Plains Drifter" with its rapid section-to-section shifts that reflected Zorn's own writing at the time is all Frisell. There may be harsher sonics, harder surfaces and more jagged edges than his later work - this was before he developed a love affair with looping - but there are still plenty of signposts of what would come, including direct allusions to country and roots music, albeit delivered in a high-velocity, cartoon-like fashion.
 There are those who still bemoan Frisell's loss of edge, and certainly the material here serves to justify those thoughts. Even "One Week (Theme)"ultimately part of a larger project, where the guitarist scored three films by slapstick comedian Buster Keaton, released on Go West and The High Sign/One Week, both on Elektra/Nonesuch is played with greater strength than on the album to come six years down the road. But this lengthy look at the film's theme also hints at the direction Frisell would be taking, even as "Devil Suit," from Go West, finds Frisell, Roberts and Driscoll layering the languid theme over Baron's tumultuous drumming. An early look at This Land's lyrical and slightly reggae-ish "Amarillo Barbados" shows that there has always been a straight line running through Frisell's career, a line that the entire Live Download Series brings into sharper focus.  - John Kelman - All About Jazz
For the complete Download Series review visit All About Jazz here.
by All About Jazz / John Kelman