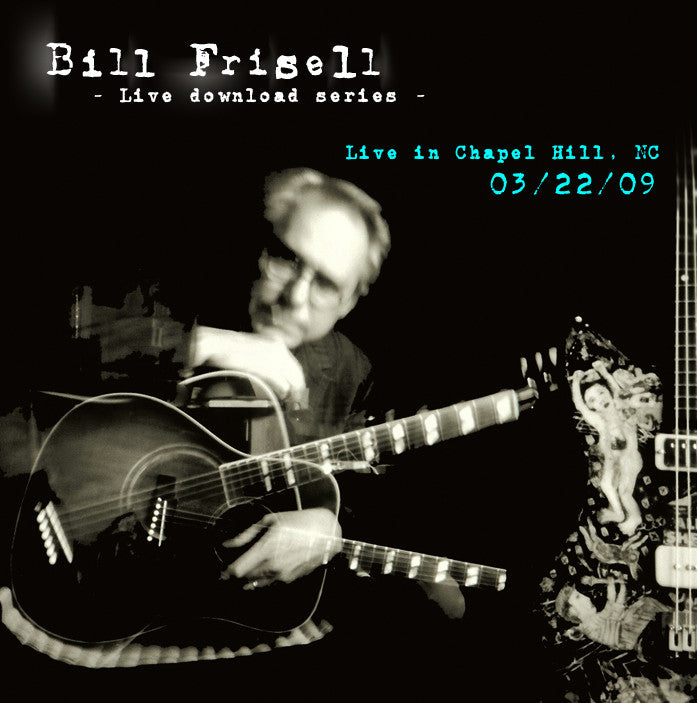 Bill Frisell Live In Chapel Hill, NC 03/22/09
Live Download Series #014
Release Date: February 25th, 2011
SONG SAMPLES:
x.mp3 Monroe
x.mp3 Throughout
x.mp3 Poem for Eva
x.mp3 

Im So Lonesome I Could Cry


x.mp3 Lovesick Blues
MUSICIANS:
Bill Frisell

 - electric guitar
Greg Leisz - steel guitars
SONG LIST:
CD1
01 Keep Your Eyes Open  9:48
02 Improvisation 032209-1   3:03
03 Monroe 8:38
04 Throughout  13:01
05 Poem For Eva  8:14
06 Cluck Old Hen 8:06
07 I'm So Lonesome I Could Cry  6:22
CD2


08 Surfer Girl  6:17
09 Baba Dram

é

 10:01
10 Benny's Bugle  5:21
11 Lovesick Blues  2:59
total running time: 1:21:43

All songs written by Bill Frisell except: Cluck Old Hen (traditional), I'm So Lonesome I Could Cry (Hank Williams Sr.), Surfer Girl (Brian Wilson), Baba Dram

é

(Boubacar Traore), Benny's Bugle (Benny Goodman), Lovesick Blues (Cliff Friend and Irving Mills)  

* This is one 81 minute performance with no intermission but tracks above are divided into CD1 and CD2 for burning purposes
Recorded by Claudia Engelhart at the Great Hall - Chapel Hill, NC
Frisell Archivist: Martin Lane
Produced by Adam Blomberg

A Songline / Tone Field Production


REVIEW
What has always made Frisell an artist worth seeing live is the way he constructs his set list or, perhaps, deconstructs it. As he demonstrated in his 2012 TD Ottawa Jazz Festival appearance, performing two sets of music from The Beatles' John Lennon, he's achieved the level of trust with his various groups that allows him, in most instances, to hit the stage with little more planned than the opening song. From there, what his groups play and how they get from one song to the next is the real magic -  the trip being as important as the destination. There are a couple of breaks in this marvelous 2009 duo performance with Greg Liesz in Chapel Hill, NC, but for the most part the duo seamlessly moves from one song to the next without pause. The segues (much like the songs themselves) are the result of spontaneous if not exactly decisions, which would imply too much conscious thought, then certainly in-the-moment, subconscious intuition - choices based on one or the other playing something, anything whether it's a tiny revelatory motif or even, perhaps, just something that suggests where the two might go next.
Liesz has contributed significantly to recordings like drummer Brian Blade's unexpectedly superb singer/songwriter debut, Mama Rosa (Verve, 2009), but it's with Frisell that he really has the freedom to explore the full range of his instruments, feeding them through an array of effects that rivals his partner's own sonic arsenal. In a set list that dates back to "Throughout," the second track on Frisell's 1983 leader debut, In Line (ECM), and moves forward to clarinetist Benny Goodman's "Benny's Bugle," from Beautiful Dreamers (on which Liesz did not originally play), this 80-minute set also epitomizes Frisell's longstanding modus operandi, which his little to do with individual soloing and more with collective interpretation, as individual instruments move forward and back in the mix, but are just as often on equal footing, especially in the stark duo setting heard here.
It's no surprise that tracks from Frisell's more overt Americana recordings feature strongly, including "Keep Your Eyes Open," from Nashville (Nonesuch, 1997), and, from Good Dog, Happy Man, a lengthy exploration of the brighter "Monroe" here taken to more oblique territory by both players, as they effortless work off each other's ideas and, at times, seem to finish each other's sentences the way old married couples do, and the memorable, descending major scale melody of "Poem for Eva." But even if other tracks like "Baba Drame," from 2003's The Intercontinentals, country star Hank Williams' "I'm So Lonesome I Could Cry," from Ghost Town (Nonesuch, 2000), Irving Mills' "Lovesick Blues," from 2009's Disfarmer (Nonesuch), and the traditional "Cluck Old Hen," first heard on 2002's bluegrass-informed The Willies (Nonesuch) demonstrate Frisell's ongoing ability to find fresh things to say (to surprise, even) with often-covered songs of the simplest of constructs, regardless of the context, he goes a step further with a Beach Boys song, Brian Wilson's "Surfer Girl," appearing on a Frisell recording for the first time, as a gentle, almost lullaby-like ballad.
Sonically lush, with Liesz' soaring pedal steel a perfect foil for Frisell's sustaining notes that seem to hang on almost indefinitely, this download is not just special because it features a previously undocumented context, but because it shines a particularly strong spotlight on Liesz. A Frisell partner for more than a decade, in larger contexts, Liesz is often subsumed into the greater whole, but is heard here with far greater clarity and delineation, revealing a far more experimental musician than might previously have been considered.
by All About Jazz / John Kelman
For the complete Download Series review visit All About Jazz here.