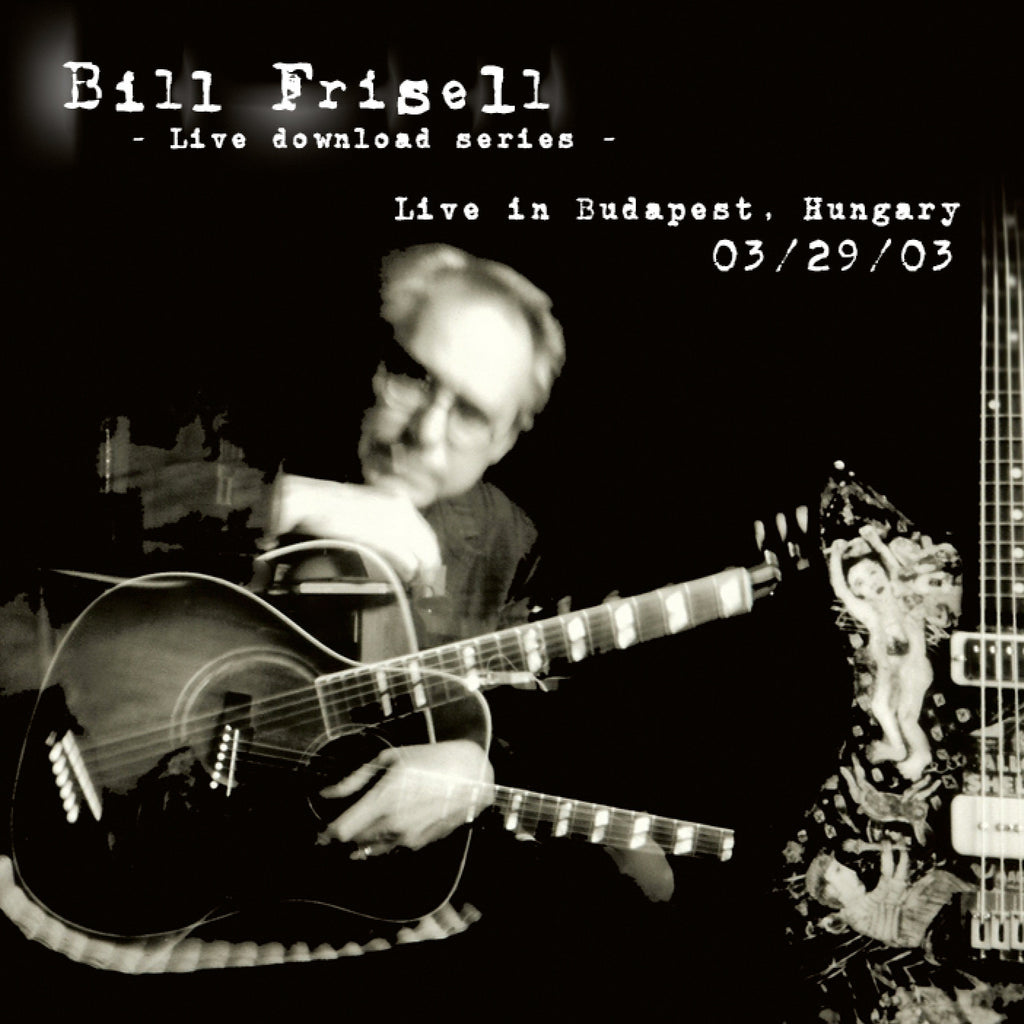 Bill Frisell Live In Budapest, Hungary 03/29/03
Live Download Series #011
Release Date: July 20th, 2010
SONG SAMPLES:
x.mp3 A Hard Rain's A-Gonna Fall 
x.mp3 Ron Carter
x.mp3 Lost Highway
x.mp3 

Eli


x.mp3 I Heard It Through the Grapevine
MUSICIANS:



Bill Frisell - electric & acoustic guitar
Greg Leisz -  pedal steel & dobro
David Piltch - bass
Kenny Wollesen - drum 
SONG LIST:
01 Boubacar 6:28
02 Improvisation 5:03
03 A Hard Rain's A-Gonna Fall 7:55
04 Ron Carter 11:23
05 Lost Highway 7:11
06 Monroe 9:13
07 Eli 5:30
08 Your Cheatin' Heart 8:22
09 Hurt 8:49
10 That Was Then 10:16
11 Tennessee Flat Top Box 2:01
12 I'm So Lonesome I Could Cry 8:41
13 I Heard It Through the Grapevine 7:20
total running time: 1:38:08



All songs written by Bill Frisell except: A Hard Rain's A-Gonna Fall by Bob Dylan, Lost Highway by Leon Payne, Your Cheatin' Heart by Hank Williams Sr., Hurt by Trent Reznor, Tennessee Flat Top Box by Johnny Cash, I'm So Lonesome I Could Cry by Hank Williams Sr. and I Heard It Through The Grapevine by B.Strong/N.Whitfield
Recorded by Claudia Engelhart at Millenaris Park in Budapest, Hungary
Frisell Archivist: Martin Lane
Produced by Adam Blomberg

A Songline / Tone Field Production


A word from music producer Lee Townsend....
     "
I had the good fortune

 to attend this concert in Budapest on March 29th, 2003. It was a strange time to be traveling abroad as an American  just a few days after the U.S. invaded Iraq. I arrived a few minutes late to the torrid sounds of "A Hard Rain's Gonna Fall". The band was so centered and focused -  Bill, Greg, David and Kenny performing as one - and the audience was transfixed. It was a very emotional moment that everyone present seemed to be sharing in an extraordinary, elevated sense. I was so filled with sadness and uplift at the same time. Tears immediately started pouring down my cheeks. And the concert just took off as a journey from there through Bill's own songs like "Ron Carter", "Monroe", "Eli" and "That Was Then" to classics like "Hurt", "Lost Highway", "Your Cheatin' Heart", "I'm So Lonesome, I Could Cry" and "I Heard It Through the Grapevine". I am so happy that this concert is available for Bill's audience to appreciate as I found it to be a deeply poignant experience and one that ultimately felt like the best of what so-called "Americana" had to offer in the face of a tragic moment in our history. I hope some of that power comes across in the recorded version of this music. As I listen to it now, it certainly has that kind of effect on me." -  Lee Townsend, Producer and Manager of Bill Frisell. Berkeley, CA. August, 2010.


REVIEW
 All About Jazz
January 26, 2011
By John Kelman
A tour featuring a reduced, hornless version of Frisell's band for 2001's Blues Dream (Nonesuch) finds the guitarist exploring a cross-section of material, ranging from more propulsive and direct versions of The Intercontinentals' "Boubacar" and "Eli," to an early version of the folkloric "Lost Highway," first heard on the download-only Further East (2005), and a lengthy look at Blues Dreams' spare, bass-driven "Ron Carter."
 Frisell also looks back at the eminently memorable "Monroe," from Good Dog, Happy Man (Nonesuch, 1999) one of his best (if not the best) pure Americana records to date. Frisell rarely travels with an acoustic guitar these days, so it's a treat to hear him meshing organically with Liesz's dobro, propelled with the unshakable team of Wollesen and bassist David Piltch. Live Download Series #011's appeal is, in fact, the preponderance of acoustic material, including a version of Hank Williams Sr.'s "Your Cheating Heart" that swings with country elegance.
 Back on electric, Frisell proves his skill at finding good music in less-than-likely places and shaping it to his own musical sphere, as he delivers a version of Nine Inch Nails mastermind Trent Reznor's "Hurt" that's about a different kind of pain; one less about angst and more about introspective, existential suffering, though it does build to a greater climax, with Wollesen and Piltch driving the beat and Frisell and Liesz hovering around each other, throughout the song's three-chord cycle. Two flat-out acoustic country tunes; Johnny Cash's "Tennessee Flat Top Box" and Hank Williams, Sr.'s "I'm So Lonesome I Could Cry" lead to a version of "I Heard It Through the Grapevine" that, with Liesz' occasionally Leslie'd electric guitar and Wollesen's visceral back beat, stands as Frisell's definitive version of this classic R&B hit. - John Kelman - All About Jazz
For the complete Download Series review visit All About Jazz here.