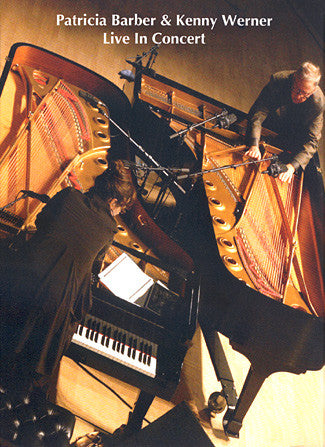 Patricia Barber & Kenny Werner - Live In Concert DVD
TRACK LISTING:
01. Bumper To Bumper
02. Triste
03. The Storyteller
04. Milestones
05. Touch of Trash
06. I Had A King
07. The Swim
08. Being With You
09. Company
10. Snow
11. The Moon
12. If I Were Blue
Patricia Barber - piano & vocals
Kenny Werner - piano

(Floyd Records - 2011)
All Songs By Patricia Barber ? Patsy Publishing BMI except 2 (Antonio Carlos Jobim), 4 (Miles Davis), 6 (Joni Mitchell) and 8 (Smokey Robinson).
Photography by Valerie Booth O
Musical Assistant: Andrea Amos
Hair, makeup: Teresa Sullinger
Design and video editing: Andrea Amos
On November 13, 2010, Kenny Werner and I played a two piano concert for a thousand people at a resplendent Pick-Staiger Auditorium, sponsored and recorded by the Bienen School of Music at Northwestern University. As I walked onto the stage and sat down at my piano, face to face, keyboard to keyboard, with Kenny at his piano, I felt I had walked into a dream. From beginning to end, this musical evening was endowed with an other worldly grace. We both felt the tingle for hours after the last encore.
I am thrilled to be able to present this concert in its entirety. - Patricia Barber (February 20, 2011)