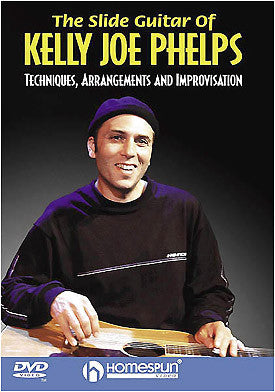 KELLY JOE PHELPS - The Slide Guitar of Kelly Joe Phelps DVD
The Slide Guitar of Kelly Joe Phelps, (Homespun Video) provides 80 minutes of detailed instruction in slide bar technique, string muting, use of the capo, fingerpicking style and how to scale and chord patterns in open D tuning. Kelly Joe is an articulate and patient instructor and will provide numerous insights into his musical craft on this video. His exploration of improvised solos, using a combination of open and barred strings, will help you create expressive melody lines and evocative harmonies, and turn your songs into vehicles through which you can express your own ideas and emotions. 

This lesson includes detailed analyses of Kelly Joe's guitar arrangements to the traditional gospel song When the Roll is Called Up Yonder ('Roll Away the Stone'), his original minor-key blues Black Crow Keeps Flying ('Lead Me On') and the classic Leadbelly song Goodnight Irene ('Shine Eyed Mister Zen').