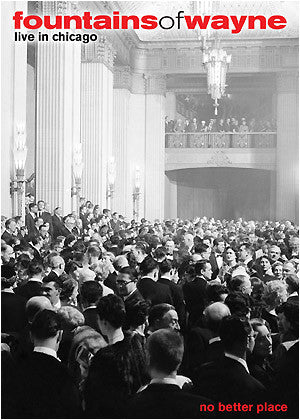 Fountains of Wayne - No Better Place: Live In Chicago DVD
TRACK LIST:
I'VE GOT FLAIR
MEXICAN WINE
JANICE'S PARTY
NO BETTER PLACE
DENISE
HACKENSACK
HEY JULIE
VALLEY WINTER SONG
SICK DAY
RED DRAGON TATTOO
STACY'S MOM
BRIGHT FUTURE IN SALES
MAUREEN
RADIATION VIBE
SURVIVAL CAR
SINK TO THE BOTTOM
EXTRAS:
ALL NEW NEVER-BEFORE SEEN ACOUSTIC SET PERFORMED
LIVE IN THE STUDIO!
Fountains of Wayne release their first-ever DVD,
No Better Place: Live In
Chicago
on
March 3rd
. Filmed in the Windy City in 2005, this concert was
shot for broadcast in a widescreen format and recorded in 5.1 Surround to
provide an electrifying home viewing experience.
No Better Place – Live In Chicago captures Fountains of Wayne thrilling the
crowd with dynamic career-spanning performances of their hits, including
"Mexican Wine," "Stacy's Mom," "Hey Julie," and "Bright Future In Sales." The
band's warm, feel-good vibe has long endeared them to fans, and this
performance catches them unleashing the hooks and humor that have made
them champions of power pop. The DVD also features an all new, never-before
seen acoustic mini-set filmed live in the recording studio.
Chris Collingwood (Lead Vocals, Guitar)
Adam Schlesinger (Bass, Vocals)
Jody Porter (Guitar, Vocals)
Brian Young (Drums, Percussion)