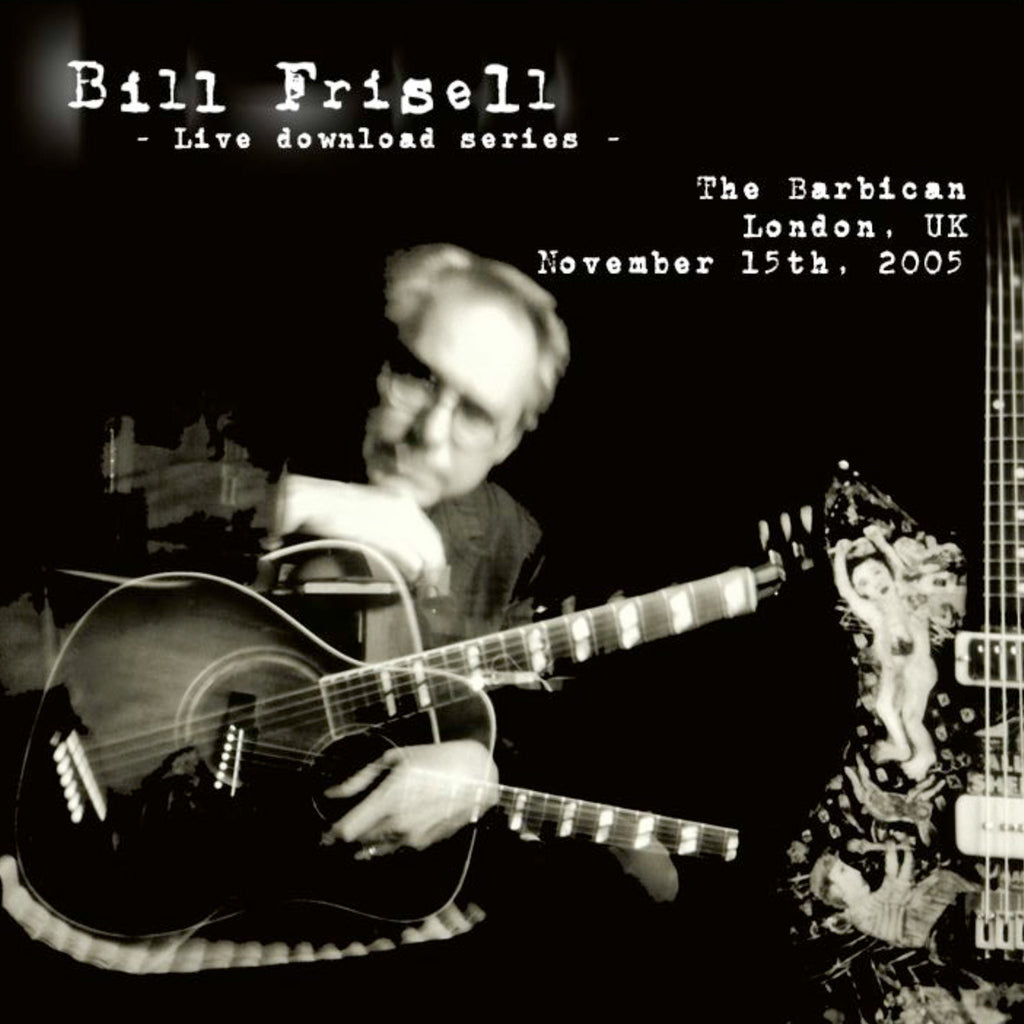 Bill Frisell Live In London, UK 11/15/05
Live Download Series #005
Release Date: xxxxxxxx
SONG SAMPLES:
x.mp3 Across the Universe
x.mp3 You've Got to Hide Your Love Away
x.mp3 In My Life
x.mp3 

Please Please Me


x.mp3 Nowhere Man
MUSICIANS:



Bill Frisell
 - electric guitar
Greg Leisz
 - pedal steel, acoustic guitar
Jenny Scheinman
 - violin
SONG LIST:
01 Improvisation #1
02 Across The Universe
03 Improvisation #2
04 Beautiful Boy
05 You've Got to Hide Your Love Away
06 Improvisation #3
07 # 9 Dream
08 Revolution
09 In My Life
10 Julia
11 Please Please Me
12 Come Together
13 Nowhere Man
total running time: 1:28:40


* John Lennon Tribute performance 
All songs written by John Lennon & Paul McCartney except #9 Dream, Beautiful Boy (John Lennon)  
Recorded by Claudia Engelhart in The Barbican Theater in London, UK 
Post Production by Adam Blomberg
Frisell Archivist: Martin Lane  A Songline / Tone Field Production

REVIEW
All About Jazz
January 26, 2011
By John Kelman
005
Live Download Series #005, from a performance at The Barbican in London, England, is another gem of a find and not just because it's an opportunity to hear Frisell in a rare trio with Jenny Scheinman and Greg Liesz, but because the set list, with the exception of some interconnecting improvisations, comes entirely from the pen of John Lennon, alone or with Beatles-mate, Paul McCartney. As British big band arranger Colin Towns proved recently, with his stunning John Lennon And In His Own Write (Provocateur, 2011), Lennon
may have been "just" a pop song writer, but there's always been plenty of possibility in his music, ranging from the simply lyricism of "Across the Universe" to the agro- attitude of "Revolution."
With Liesz moving between pedal steel and supporting acoustic guitar, Frisell's homage to Lennon is a little more direct than Towns,' though the guitarist's characteristic patience in finding his way to a song is as clear as ever on a 12-minute version of The Beatles' "You've Got to Hide Your Love Away." Frisell's lengthy intro hovers around a pedal tone, with Scheinman and Liesz (on acoustic guitar) joining in, but still allowing the song to evolve organically, as its familiar form emerges around the four-minute mark. While individual voices dominate, they're often fleeting, with Frisell's approach here and with so much of his music and "more about collective interpretation.
The surprise of the two-disc, 90-minute set is "Revolution," with Frisell strumming grungy rock and roll chords with reckless abandon, interspersed with strange pitch shifts up into the stratosphere and down to the ocean's depths. It's hard to imagine that a guitar, pedal steel and violin can rock out, but Frisell, Liesz and Scheinman do just that, only to follow up with one of the gentlest versions of the poignant "In My Life" on record. - John Kelman - AllAbout Jazz
For the complete Download Series review visit All About
Jazz here.