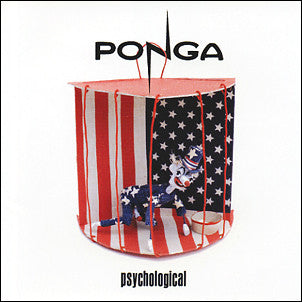 Ponga - Psychological CD
TRACK LISTING

1. Rivera
2. Psychological
3. Dental Melodica
4. Hagro
5. Nubile
6. Sabado Gigante
7. Show Me the Ponga

Release 04/06/99

Wayne Horvitz (keyboards) 
Bobby Previte (drums) 
Skerik (sax) 
Dave Palmer (keyboards)

Here's What One Expert Said, "Broken is the Golden Bowl, the Spirit Flown Forever and Edgar Allan Poe Went in to Chen's China Palace on the Corner of 19th and Clement and Started Winging Beautiful Saucers, Exquistite Platters--Grand Dishes and Plates! The Floor Rang Out with Hand Painted China---All thru the Streets of San Francisco the Golden Aria Could be Heard Stitching thru Torn Clouds Like A Darning Thread, even at the Police Station. Upon Investigation and Interogation Leading to Poe's Explaination: "Somethings Must Be Proven Before One's Final Dinner Bell Sounds", Mr. Chen Pleaded with Police Simply Not to Press Charges, but Chanted to his Deceased Cousin in Concord: "I Met Great Fortune Cookie Scribe! I Met Great Fortune Cookie Scribe!"