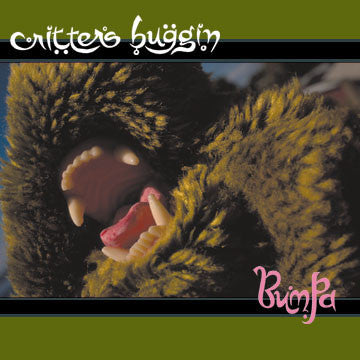 Critters Buggin - Bumpa Digital Download
CRITTERS BUGGIN
Bumpa
(
©
1998 Loosegroove Records)
1. Fluoride
2. Broze the Clone
3. I Ate Lucy
4. Chimp & Ape
5. Senjara
6. Raimondi
7. Bomb Ass Tick
8. Joe Sard
9. Trucker Beak
10. Fast Johnson
11. Pedro Lovin
12. 33:
13. 1-2-3-4
14. Joe Sard (reprise)
Matt Chamberlain - drums, percussion, loops, samples, digital editing
J. Bradley Houser - basses, baritone saxophone (trk 9), Rhodes piano bass
Skerik - tenor, baritone, soprano saxophones, hammond bass and keys, Rhodes piano, analog synth, samples, effects
Mike Dillon - percussion, conga, tabla, vibes
Produced by Eric Rosse
Mixed by Eric Rosse @ Animas Studio, Sante Fe, N.M.
Recorded @ Litho Seattle
Engineered by Mel Dettmer, Asisted by Dave Fisher
Live Recording @ O.K. Hotel Engineered by Mel Dettmer, Assisted by Beck Henderer and Randall Dunn.
All songs written by Matt Chamberlain (Chunky Nuggets: ASCAP) J.B. Houser (Enlightened Kitty: ASCAP), Skerik (Skerik Music: BMI), M. Dillon (Broc-Bear Music)
Front Cover Photo: Nick Polimenakos
Bumpa Beast Created by Maurice Caldwell Jr.
Photos Inside Panels - Bruce Tom, Regina M. Schlitz, Olivia Taguinod
Back Cover Photo: Lisa Raimondi
Custom Lettering: Maurice Caldwell Jr.
Layout: Regan Hagar, Bruce Tom